Bahauddin Zakariya University BZU Multan BSc Date Sheet 2022
Bahauddin Zakariya University BZU Multan BSc Date Sheet 2022
Announced on: October 4, 2022
Exam Starts From: 11 October 2022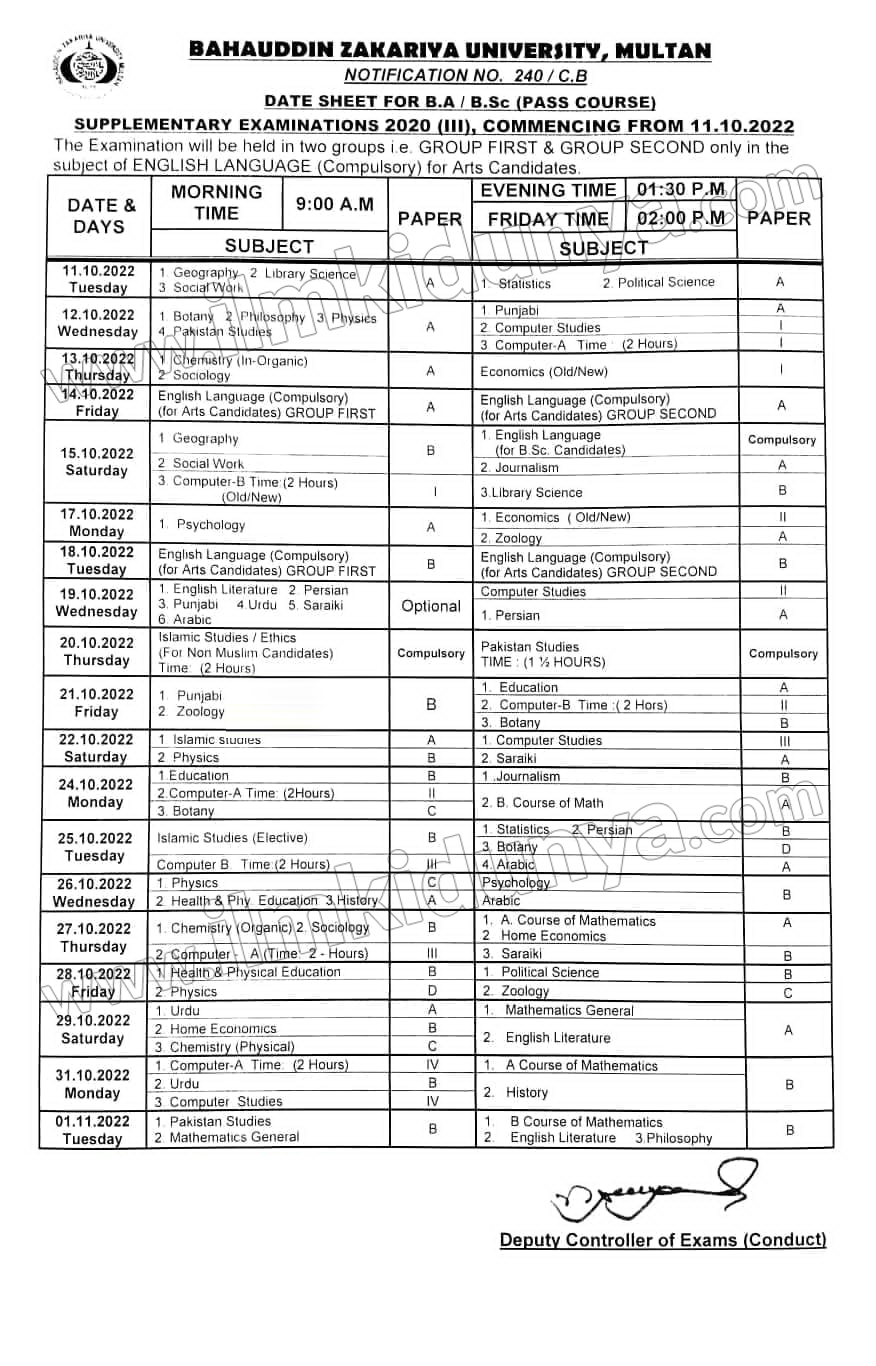 Prevoius Years Date sheet
| Date Sheet | Date Announced | Details |
| --- | --- | --- |
| Date Sheet for BA/BSc (Pass Course) Supplementary Examination 2020 | October 4, 2022 | View - Download |
| Date Sheet for ADA / ADS (Pass Course) 2nd Annual Examination 2021 and Annual Examination 2022 | September 2, 2022 | View - Download |
| Bahauddin Zakariya University BA BSc Supplementary Examination Date Sheet 2020 | 15 January 2022 | View - Download |
| Bahauddin Zakariya University BA BSc Annual Date Sheet 2021 | 07 December 2021 | View - Download |
| Bahauddin Zakariya University BA BSc Supply Date Sheet 2020 | 16 July | View - Download |
In 1975 Bahauddin Zakariya University was established in Southern Punjab. It is known as one of the biggest universities in Multan. The university aims to give the facilities of higher education and research to the students. It is imparting education for different levels ranging from graduation to Ph.D. Many private and public colleges in Southern Punjab are also associated with this university. It offers admission in various academic departments such as economics, education, social sciences, criminology, history, gender studies and many more. The degrees of the university are recognized by the Higher education commission of Pakistan. It is ranked among the powerful universities in the world.
Bahauddin Zakariya University BZU Multan BSc Date Sheet 2022
The annual examination of BSc will be held in April and the university has announced the date sheet for exams. You can easily check the BZU BSc Date Sheet 2022 from this page. Every year thousands of private and regular candidates appear in the examinations that are conducted under the supervision of Bahauddin Zakariya University Multan. If you are going to give the BSc exams then visit the date sheet by going through this platform. The date sheet will assist you during the exam phase by giving the details about the schedule. Students must follow the exam schedule to avoid any inconvenience.
Download the BSc date sheet 2022 of Bahauddin Zakariya University
It is recommended to students to check BSc Date Sheet 2022 BZU before the examination. Make sure to prepare the exam according to the mentioned schedule provided by the authorities. Datesheet.pk has uploaded the date sheet of BSc BZU so that students can easily approach it. This portal gives you access to the date sheet so that you can view online and can also download it. The date sheet facilitates the students by providing the information about the date, day and venue of the exams. Students can also get the other details related to the examination.
Keep visiting the datesheet.pk to remain in touch with the latest news about the BSc exams. All the information about the BSc date sheet 2022 of Bahauddin Zakariya University is displayed here.