Punjab Univeristy PU Lahore BSc Date Sheet 2022
Punjab University Lahore has been announced the date sheet of science group bachelor students online, so the candidates of respective university are recommended to download Date Sheet BSc Punjab University Lahore (PU) 2022 online for the ease in the preparation of final term examinations. As Punjab university of Lahore PU has strong willed to establish the BSc annual term exams of 2022 batch as of April 2022. In this look upon the date sheet has been issued before one month of final term examinations in the month of March. Students of BSc could check Date Sheet 2022 PU; this action can help them a lot as a date sheet is actually a schedule of final term papers days. Students are wished very best of luck from the side of board faculty
Punjab Univeristy PU Lahore BSc Date Sheet 2022
Announced on: September 22, 2022
Exam Starts From: October 3, 2022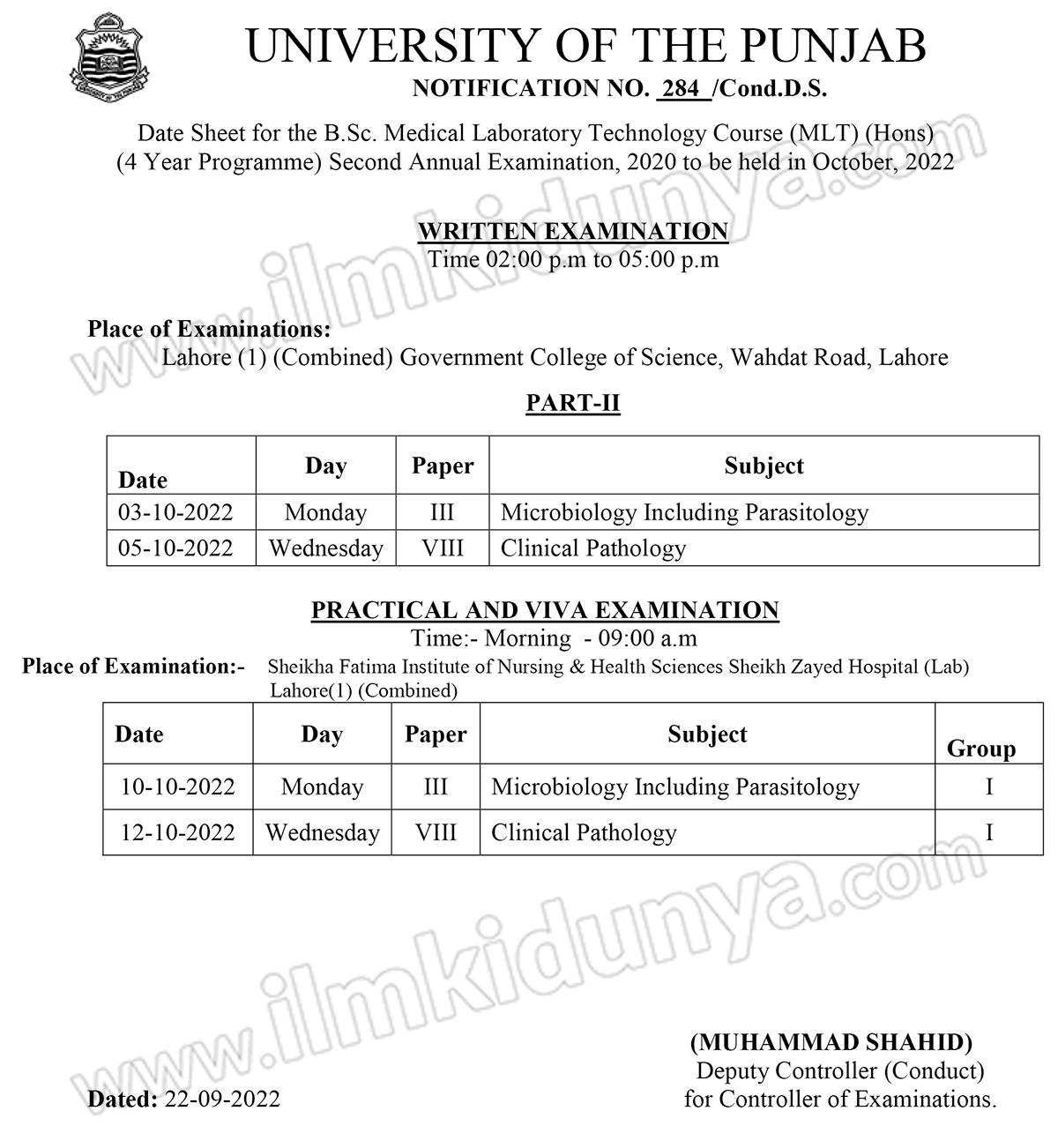 Prevoius Years Date sheet
| Date Sheet | Date Announced | Details |
| --- | --- | --- |
| BSc Medical Laboratory Technology Course (MLT) (Hons) (4 Year Programme) Second Annual Examination, 2020 Date Sheet | September 22, 2022 | View - Download |
| Date Sheet for the Associate Degree in Arts/Science Part-I Annual Examination, 2022 | 14th July 2022 | View - Download |
| Punjab University BA/BSc Part 1 & 2 Supplementary Examination Date Sheet 2021 | 04 March 2022 | View - Download |
| Punjab University B.Sc. Electrical Engineering Date Sheet 2021 | 14 February 2022 | View - Download |
| Punjab University B.A./B.Sc. Part 1 Date Sheet 2021 | 16 August 2021 | View - Download |
BSc Date Sheet Punjab University Lahore (PU) 2022
As we are talking about the Punjab University of Lahore so it is the oldest and leading university situated in the educational as well as chronological city of Lahore, Punjab university of Lahore recognized in very first after the establishment of Pakistan. Punjab University has recently announced the date sheets so they are suggested to check date sheet online. Punjab university of Lahore PU is encouraging edification all the way through a variety of turfs of studies. Punjab University has engaged in recreation a very important function in the improvement of higher education in the state and makes available improved education surroundings. Students of university of Punjab are recommended to see Date Sheet of BSc Punjab University 2022.
Punjab University Lahore (PU) Date Sheet check 2022 BSc
Resting on the starting point of excellence learning, pleasurable atmosphere as well as levelheaded education charges the institutions of higher education turn out to be the first alternative of student. At the moment Punjab university of Lahore PU has most important university grounds in Lahore and other campuses are in Gujranwala, Jhelum and Khanspur at the same time as the enterprise of Kasur site is in development. Students should check BSc Date Sheet 2022 of Punjab University for finding the schedule of preparing the final term exams in a very best way to get success. As any institutes is responsible for the improvement of study character in specific area and the necessitates of students while studying, now students are optional to see Date Sheet online of BSc 2022 of Punjab University Lahore.
View online Punjab University Lahore (PU) Date Sheet 2022 BSc
Every year a lot student linked with the University of Punjab Lahore, in the year of 2022 there a lot of candidates registered with the faculty of Punjab University for different programs like; BSc M.sc B.com M.com M.Phil PhD and many other courses. Students should keep in touch with the university faculty staff for the latest updates about studies of all programs in university of Punjab; moreover students can download Punjab University BSc date sheet 2022 for the ease in the scheduling the exams preparation again and again. As it is usual that university is responsible for the conveyance of date sheets results roll number slips and selection of department students make available with the facility of hostels and messes for those students who are studying here from very far from the university. Students can view and download online Date Sheet 2022 Punjab University Lahore (PU) BSc for entertaining preparation of the final term examinations.